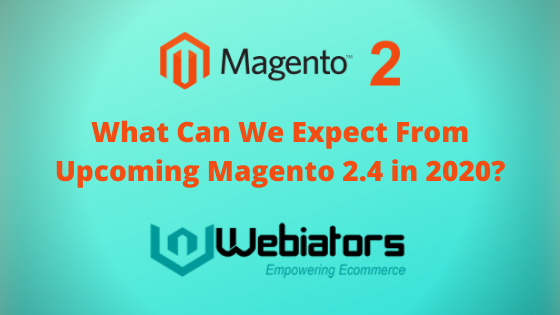 In this growing world of ecommerce business, Magento is one of the best and most used platform that attracts all Magento lovers even more by releasing necessary upgrades from time to time. Even due to this epidemic Covid 19 Magento cannot disappoint his Fens. As you all know that Magento brings many features with its new release that can make the ecommerce platform even better with various aspects. In the same way all Magento developers are expecting the same thing this time about the upcoming version of Magento.
There was talk of releasing new version 2.4.0 of Magento since the end of 2019 and since then magento fans have been eagerly waiting for this new version. This post discusses the release date of Magento 2.4.0 beta version and detailed information related to it.
&

lt

;

figure

>

&

lt

;

iframe

allowfullscreen

=

"true"

class

=

""

src

=

"https://platform.twitter.com/embed/index.html?creatorScreenName=webiators&dnt=false&embedId=twitter-widget-1&frame=false&hideCard=false&hideThread=false&id=1267502839624019969&lang=en&origin=https%3A%2F%2Fwebiators.com%2Fwhat-can-we-expect-from-upcoming-magento-2-4-in-2020%2F&siteScreenName=webiators&theme=light&widgetsVersion=9066bb2%3A1593540614199&width=550px"

>

&

lt

;

/

iframe

>

&

lt

;

/

figure

>
Magento 2.4.0 (beta) version release date:
The announcement stated that the release date of Magento 2.4.0 beta version is June 01, 2020. Magento Open Source 2.4.0 and Magento Commerce 2.4.0 release beta version supports substantial platform upgrades, performance improvements, and major security changes.
The latest version provided by Magento 2 will help store owners to boost the store's performance and the latest features offered by it make your store the best available for customers. From here you can download Magento 2.4.0 (beta).
Security-only patch available:
Ecommerce merchants can install time-sensitive security fixes without applying hundreds of sensitive fixes and enhancements to their stores. Patch 2.3.5.2 is able to provide fixes for definitive weaknesses found on Magento's final release. All are implemented in the beta version of Magento 2.4.0.
Substantial Security Enhancements:
Two-factor authentication (2FA) is now enabled by default for the Magento Admin.
Template filter strict mode is now enabled by default.
Data rendering for UI data providers is now disabled by default.
Content Security Policy (CSP) improvements.
Platform upgrades:
PHP 7.4 support introduced and PHP 7.1 and 7.2 deprecated
Support for PHPUnit 9.x and deprecation of PHPUnit 6.5
Elasticsearch 7.x support
MySQL 8.0 support
Removal of the MySQL catalog search engine
MariaDB 10.4 support
Migration of dependencies on Zend Framework to the Laminas project
Removal of the core integration of the Signifyd fraud protection code
The core Braintree module has been removed from the code base
Infrastructure improvements:
Removal of core integration of third-party payment methods
Support for partial-word search for Elasticsearch
PayPal JavaScript SDK upgrade
Deprecation and removal of the Web Set Up Wizard
Composer update plugin
Performance improvements:
Improvements to customer data section invalidation logic
Multiple optimizations to Redis performance
Improved caching of results of SQL queries to inventory tables
Improvement of up to 25-30% to Quick Order add-to-cart performance
Other highlights of Magento 2.4:
Adobe Stock Integration v2.0
Developed Inventory Management
GraphQL enhancements
Developed Magento Media Gallery with a searchable interfac
Support for PWA Studio 6.0.0 and 6.0.1
Vendor-developed extension enhancements
If you want to know more about Magento 2.4 then you can follow the link given in the release notes below.
Magento 2.4 Release Notes:
Magento Open Source 2.4.0 Release Notes
Magento Commerce 2.4.0 Release Notes
Thank you!